Research firm Superdata has just released a ton of information about the size of the eSports market – and other areas of gaming – throughout 2016.
Here's our pick of some of the top stats and facts.
1. eSports Continues to Grow!
Esports generates around $892m each year, and that's a huge number. But it's worth remembering that it's still quite some way behind VR ($2.7bn), PC gaming ($34bn), console gaming ($6.6bn), mobile gaming ($40.6bn) and 'gaming video' – including the likes of YouTube and Twitch ($4.4bn).
Overall these different industries above made $91bn in 2016.
2. League of Legends is Still the King of MOBA
League of Legends made $1.7bn this year. This means Riot Games earns $150m per month from League, according to Superdata. Dota 2 generated $23.4m per month this year, in comparison.
The Dota 2 International had a $20m+ prize pool, while League's Worlds was just over $5m.
However, while 'Dota 2 and League of Legends are notable in eSports because of the big tournaments they host, Smite and Heroes of the Storm both hosted tournaments in 2016 to the tune of $1m each', Superdata reminds us.
3. Overwatch Made 2x as Much as CS:GO
This stat is not so surprising, considering Overwatch launched this year and CSGO has been around for a while.
But Blizzard will certainly be pleased about Overwatch passing the $500m milestone in its first year.
Elsewhere, Guild Wars 2 made more money than Minecraft on PC this year. Bear in mind this is just for PC – it doesn't include the money Minecraft makes on consoles and mobiles.
4. Buying Habits Varied Greatly Between Asia & Europe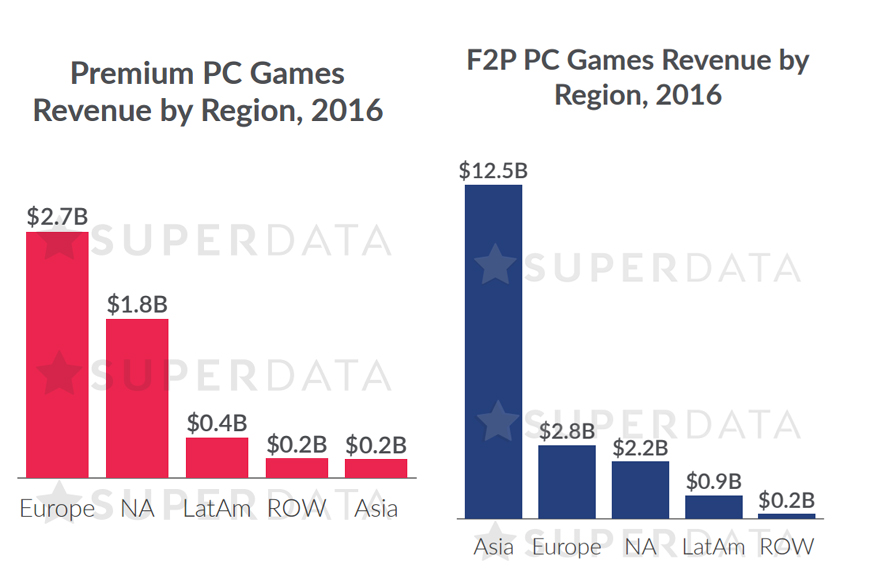 We knew this was the case, but not to this extent. These graphs are extremely telling. In general, gamers in Europe are much happier to buy full-price games, while free-to-play titles generate much higher revenues in Asia.
Another graph (below) shows that esports also generates the most revenues in Asia.
5. eSport Tourneys Doled Out More Than $70M in Prizes
$78.3m in prizes were handed out from esports tournaments in 2016.
There are also now more than 200m esports viewers worldwide, and almost $60m was spent on esports betting overall.
6. Video Content is King
The rise of the streamer and YouTuber has paved the way for a golden age of video game content.
The gaming video content market size is set to rise to $4.4bn in 2016 – a 35% rise from 2015.
Twitch made almost $2bn this year in revenues – that's twice the sum Amazon bought it for a few years back.